We've been fortunate to have several guests/instructors on our mats these last few days as old friends drop by while in town visiting family for the holidays.
Just want to take a moment to say thank you to our friend Greg Soares aka "Trog" for visiting and sharing some nice leg drag passes in advanced class before the Christmas break.  Greg now has his own school in Flagstaff, AZ. If you ever take a trip out to the Grand Canyon (if you never have, put it on the bucket list!) be sure to visit Greg for some great training and make some new friends.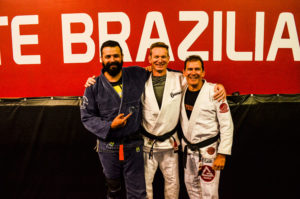 Last night we had a nice surprise visit from AJ Agazarm. AJ is a world champion and is always kind enough to visit our school and teach his latest competition tested techniques.  As we finished up class tonight, AJ shared with us a story of his first class in jiu jitsu when Rich Travis submitted him with a triangle choke. Rich was very kind chatting with AJ after class and encouraging him to keep training… a moment that contributed to the truly life changing experience that jiu jitsu would bring him.
Now Richard's youngest son Brian is a recent college graduate with a lifetime of wrestling experience behind him.  Brian has spent the last year with AJ traveling the world,training and competing and all that hard work paid off tonight as AJ promoted Brian to purple belt.  A wonderful example of how jiu jitsu gives you the opportunity to pay it forward. Truly a special night. Congrats Brian!